Four Questions with Casey Scott and John Napolitano
---
By Nixza Sabalier Lebron

Casey Scott, a junior in the College of Arts and Sciences majoring in English and psychology, expects to graduate with a bachelor's degree in 2014. She hopes to become a psychologist and later attend law school. As a freshman, she entered the General Studies (GS) Learning Community, which led her to investigate many new things—including study abroad in Australia plus a side trip to Bali—during her sophomore year.
John Napolitano, another GS student in the Class of 2014, is now majoring in environmental studies. John, who has studied abroad twice in Australia, said he aims to become a teacher about "everything associated with the environment." He said, "I want to teach the younger generation that learning about plants and such things is fun and they have the biggest impact on our atmosphere."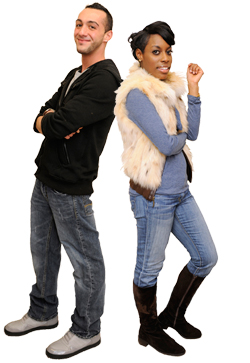 ---
Q.: With all the study abroad options, what led you to select Australia?
CS: I always loved to travel, even as a little girl, so when I had the opportunity to study abroad anywhere, I seized the moment. There were so many choices to pick from, but Australia stood out the most because it was a place that many students don't decide to explore. I wanted to visit a place that was new and Australia was it.
JN: I had the chance to study abroad in Australia twice and I learned so much. I initially studied in Australia because of the three-week faculty-led program. [Last year] I decided to study abroad again in Australia because I wanted the full experience, [since] the Great Barrier Reef and Rain Forest research project were related to my major. [Australia] is so beautiful, with unique plants and animals to study.
Q.:What did you take away from this experience?
CS: Studying in Australia was one of the best decisions that I have made for myself. Australia was so beautiful and had the most unique culture that I have ever experienced. The people in Australia are so different and they taught me to take life one day at a time.
JN: Going to Australia was such a shock because the education is completely different from the United States. My first week there I had to adjust to the Australian curriculum, which made writing papers much more difficult. Once I adjusted, I soon began to gain my own independence.
Q.: Students need a 2.5 GPA to participate in study abroad programs. Are there any other important requirements?
CS: Having a GPA of 2.5 is important, as well as being able to convert your credits. The most significant requirement is being open-minded to new ideas and being fearless. Studying abroad means trying new things like food, exploring cultures with different ideas and beliefs. Therefore, you must be able to take risks and understand people without judgment.
Q.: How did the program prepare you for the future?
CS: The General Studies Learning Community was my foundation for life. The program is very challenging, but it has such a strong support system that it helps build confidence. Professor [Daniel] Rosenberg and [Academic Tutor Carla] Williams as well as Counselor Mr. [John] Rizzi all showed me [how] to be unbiased and bold. This is where all of my academic achievements began.
JN: The GS program helped me in so many ways. For starters, it gave me the confidence to study abroad. It prepared me for the rest of my college years because the program is so intense with its course work. Even though it may be intense, there is always the help of other students, professors and the counselors who are always available.
About Adelphi: A modern metropolitan university with a personalized approach to higher learning.
Adelphi University is a highly awarded, nationally ranked, powerfully connected doctoral research university offering exceptional liberal arts and sciences programs and professional training with particular strength in its Core Four—Arts and Humanities, STEM and Social Sciences, the Business and Education Professions, and Health and Wellness. Adelphi is dedicated to transforming students' lives through small classes, hands-on learning and innovative ways to support student success.
Founded in Brooklyn in 1896, Adelphi is Long Island's oldest private coeducational university. Today Adelphi serves nearly 8,000 students at its beautiful main campus in Garden City, New York—just 23 miles from New York City's cultural and internship opportunities—and at dynamic learning hubs in Manhattan, the Hudson Valley and Suffolk County, and online.
More than 100,000 Adelphi graduates have gained the skills to thrive professionally as active, caring citizens, making their mark on the University, their communities and the world.