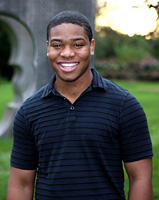 Justin Long-Moton
Adelphi University is proud to announce the release of student Justin Long-Moton's '15 first book of poems entitled Manual. Justin, 18 from Co-op City Bronx, NY,  performed his first official reading on Saturday, November 5, 2011, at 7:00 p.m. at the Great Hall at Cooper Union located in The Foundation Building on 7 East 7th Street (between Third and Fourth Avenues) New York, NY. His first book of poems, a collection of 42 poems, was part of his prize for becoming the 2010-2011 New York City Youth Poet Laureate. His reading followed the announcement of the 2012 Youth Poet Laureate. The book is available for purchase through the publisher at PoetCD.com.
Justin will also perform work from his new book at the first annual TEDYouth Conference on Saturday, November 19, 2011, from 1:00 p.m. to 5:00 p.m. at the Times Center, 242 West 41st Street, New York, NY. Justin is one of 20 young leaders who will present at the Conference which aims to "Play, Learn, Build, and Share" ideas and projects between young people who want to make a difference. Learn more about this event and about TED.
The overall theme of the poems is about overcoming obstacles and movement from hardship to triumph. Manual is constructed similarly to a written instruction guide and is segmented into four steps and a warranty section. The concept of the book is to show that "you are the only tool you need to build the life you desire," Justin explains. Through his poetry, Justin hopes to set a positive example and act as a role model to youth in his neighborhood to show that success is possible.
Justin is a first year student at Adelphi University currently in the General Studies Learning Community. He is a previous winner of numerous competitions for his writing, creativity, and activism: 2010-2011 New York City Youth Poet Laureate, 2010 New York Knicks Poetry Slam, 2010 Brave New Voices International Poetry Slam, 2011 Scholastic Art & Writing Awards Gold Key award. Justin has performed at several notable venues, including four times at the Apollo Theater in Harlem where, most recently, he opened for the 13th Annual Urban Word NYC Teen Poetry Slam Grand Slam Finals. He remains active with the nonprofit Urban Word NYC and performs his spoken-word poetry at various community service events and literary festivals, including the RED Organization and the NYC Festival of Young Artists and Leaders. He has been featured in the Wall Street Journal, New York Daily News, and on CBS, HBO, and National Public Radio (NPR).
About Adelphi: A modern metropolitan university with a personalized approach to higher learning.
Adelphi University is a highly awarded, nationally ranked, powerfully connected doctoral research university offering exceptional liberal arts and sciences programs and professional training with particular strength in its Core Four—Arts and Humanities, STEM and Social Sciences, the Business and Education Professions, and Health and Wellness. Adelphi is dedicated to transforming students' lives through small classes, hands-on learning and innovative ways to support student success.
Founded in Brooklyn in 1896, Adelphi is Long Island's oldest private coeducational university. Today Adelphi serves nearly 8,000 students at its beautiful main campus in Garden City, New York—just 23 miles from New York City's cultural and internship opportunities—and at dynamic learning hubs in Manhattan, the Hudson Valley and Suffolk County, and online.
More than 100,000 Adelphi graduates have gained the skills to thrive professionally as active, caring citizens, making their mark on the University, their communities and the world.